-Maybe it's because I'm getting closer and closer to turning 40, or maybe it's just because she's wearing me down, but I really responded to Gwyneth Paltrow's new interview in Redbook. (I mean, after I got past her description of GOOP's new headquarters, which is a repurposed 1920s chicken coop because of course it is…)
–Diane Kruger is bad-mouthing Peter O'Toole, even though (or maybe because?) he's dead. "You know who wasn't very pleasant, was Peter O'Toole. It kind of sucked. He's dead, so I can say that." Can you, though??
-Blackish's Tracee Ellis Ross has the best Prince story yet.
–Julianna Marguiles talked to the NYT about The Good Wife's ending, saying there's "no amount of money in the world" that would convince her to commit to another 22-episode series. She also refused to comment on Archie Panjabi, saying "It's all silly gossip, and I don't want to go there."
-ABC proves they're not complete idiots by signing both Viola Davis and Kerry Washington to overall deals to develop new shows.
-Vulture got Unbreakable Kimmy Schmidt's writers to walk them through season 2's most memorable jokes.  Sadly, they didn't cover my favourite: "When you were little, did you think he was handsome and then, like, your crotch got a headache?"
-Whoa. 20th Century Fox just pulled out of their big Hall H presentation at Comic Con — because they're afraid of trailer piracy. What?! It's TRAILERS. The whole point of them is to generate buzz/interest. How can that ever be a bad thing? The leaked Deadpool footage basically got that movie made.
–Melissa McCarthy gives good speech.
–Tegan and Sara's awesome new video features the equally awesome Mae Whitman and Rachel Antonoff.
-I still haven't watched season 2 of Catastrophe (but it's only 6 1/2-hour eps, so I might tackle it this weekend), but I love this article pointing out it's greatest strength: the characters actually make each other laugh. You never really see that in comedies.
–Ellen tricked Julia Roberts into selling sex toys. Fair.
–Kelly Ripa is making contract negotiation jokes in front of Michael Strahan and he is not amused.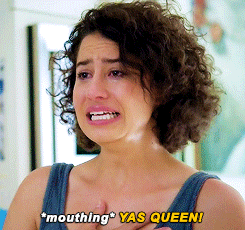 -Guys, there's a Beyoncé-Jay Z fanfic that's taking over the internet right now and I wanna blow off my next meeting to read it so bad.
-I really liked this article on the lack of blue collar representation on TV these days.
–Geena Davis and Emma Watson talk feminism in the new issue of Interview.
-This Buzzfeed video about how TV needs to stop killing gay women is very good. ("Why not a gay ghost? Let their spirit live inside a cat.")
–Alicia Vikander will star as Lara Croft in the next Tomb Raider. Meh. At least it's not another costume drama.
-Speaking of, Alicia and Dane DeHaan are secret lovers in the first Tulip Fever trailer.
-The new Captain Fantastic trailer left me with lots of 'what the hell happened with Viggo Mortensen?' questions.
-Here's the first trailer for Snowden, in which Nic Cage says things like "find the terrorist in the internet haystack" and Joseph Gordon-Levitt does really weird stuff with his voice.