-Everyone's shading Taylor Swift for taking a Vogue reporter to her BFF's wedding for her new cover story and yes, that is eyeroll-worthy. But I still love it. She's never been someone I look to for authenticity; she's someone I look to for insane control over her image, and this profile certainly doesn't disappoint. The solipsistic implications are just a bonus.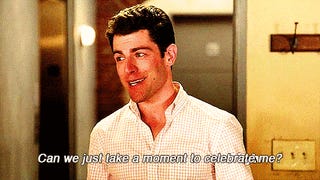 –Ryan Reynolds is having a great week. First, he made an adorable little video with Amber Tamblyn. Then, Deadpool 2 got the official green light. Then, he and Blake Lively announced they are expecting their second child.
-It's a beautiful people baby boom! Ryan Gosling and Eva Mendes are also expecting their second kidlet.
–JLo looks lovely on the cover of W magazine. In the interview, she talks about how she knew "very quickly" that her marriage to Marc Anthony "wasn't the right thing."
–James Cameron just promised four Avatar sequels. Pray for us all.
-A Vox reporter spent six months on The Americans set to find out how one of the best shows on television gets made, and the result is a very long, but very fascinating read.
-Speaking of great reads, Buzzfeed took a deep dive into the 11-year drama surrounding the movie Nina, from its fatal casting of Zoe Saldana to its internal fights.
-Do we believe that Drew Barrymore is really pregnant? Cause I'm in the "hells no" camp. Pregnant women don't get tats.
–Kate Hudson's impression of Garry Marshall is perfect.
–The first image of Scarlett Johannson as the lead in the remake of the Japanese manga, Ghost In The Shell, arrived today and accusations of white-washing were quick to follow. How is Hollywood still doing this?!
–Julia Louis-Dreyfus says she wasn't too fond of her "very sexist" SNL years.
-Canadian singer Grimes says "numerous" male producers tried to blackmail her into having sex. Men are gross.
–Alden Ehrenreich is your latest Han Solo front-runner. I like this kid. I remember seeing him in Beautiful Creatures and not liking the movie but really liking what he was doing.
-Rodarte just failed Hailee Steinfeld so hard. All the nopes!
–LeAnn Rimes' rep is denying claims that the singer has a diva attitude. Sounds fake, but whatever.
–Charlize Theron is trying to walkback her complaints about being too pretty for good roles. Ok.
–Mary-Kate and Ashley Olsen posted their first selfie ever. Say "prune!"
-What's going on between Sean Penn and Minka Kelly?  I worry.
–Maisie Williams was adorable on the Seth Meyers' show, talking about how she gamed the system by scoring the most comfortable Game of Thrones costume on the show.
-It was Team Iron Man's turn on Kimmel last night. What the what is Paul Bettany wearing?!