-I really love Claire Danes' new Allure cover story, where she talks about how fans still approach her about My So-Called Life (my top 3 show of all time, just behind Buffy and TXF), how she once burned all her hair off with a perm, and how she's learned to accept her body: "I'm attractive enough. I can do the work I want to do. I've found a wonderful man who wants to make out with me. I'm good."
-Ohhh boy. It's great that The Hollywood Reporter gathered 6 actresses from all different age groups to talk about the pay gap in their new roundtable interview, but how did anyone look at this photo and not think "hmmm, we may have a problem here"? And their "mea culpa" about its whiteness after Twitter bashed them for it is laughable. I mean, they're right that it reflects a disturbing lack of diversity among this year's predicted Oscar hopefuls. But perhaps that's something that should have been addressed in their story?
-Also, did Brie Larson forget that she actually got the part she's lamenting here?
-In less problematic cover news, Angelina Jolie and Brad Pitt get cuddly for the cover of Vanity Fair Italia.
-The Ant Man gag reel is short but cute. Kinda like Ant Man.
-The season 2 trailer for Agent Carter has landed and I am so here for it! (And her killer red sunglasses.)
-This woman won a lunch date with George Clooney and is somehow coherent enough to talk about it without fainting.
-Just when I thought I had reclaimed my life, there's more to the "Zola's Road Trip with a White Bitch She Met at Hooters" story! I'm going to need at least four days to fully process this…
-People magazine skipped over Chris Pratt, Daniel Craig and Idris Elba to name David Beckham the Sexiest Man Alive?!?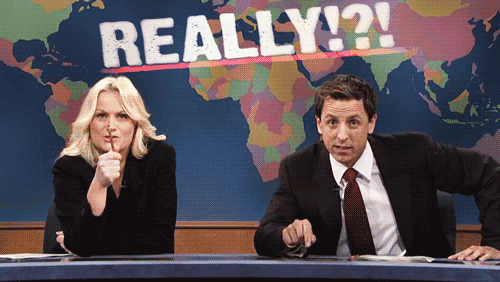 -Now that the embargo has lifted, the early reviews are coming in for Michael B Jordan's performance in Creed — and they're glowing.
–Jesse Eisneberg wrote a piece about film critics for The New Yorker and film critics are supes unhappy with him right now.  (I thought it was funny.)
-Welp. A judge just granted a new hearing in the Serial case surrounding Adnan Syed.
-It's cute that all the One Direction boys (except for Harry Styles) are fronting like they've never hooked up with a fan.
–Rose McGowan (sort of) apologized for her rant against Caitlyn Jenner — while spelling her name wrong.
-Has Avril Lavigne moved on Ryan Cabrera? That headline would be so lit if this were 2006…
–Nene Leakes appeared on The View — and then tweeted about how much she hated it.
-I only know Bella Thorne as the mean girl in The Duff, but if she keeps dropping thinly veiled blind items I'm going to join (start?) her fan club.
–Joel McHale's The Soup has been canned (like soup).
–Matthew McConaughey and Kate McKinnon are banter-ific in his SNL promos.
-I don't hate the first trailer for The Huntsman: Winter's War, mostly because it's all about Emily Blunt, Jessica Chastain and Charlize Theron chewing scenery and treating Chris Hemsworth like eye candy.
-The Zoolander 2 trailer made me laugh a couple of times, so that's something.