–Sarah Jessica Parker says lots of awesomely feminist things in the new issue of Marie Claire — and then declares "I'm not a feminist."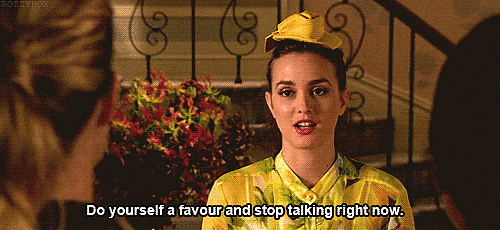 -In better cover story news, THR somehow convinced The Americans on-and-offscreen couple Keri Russell and Matthew Rhys to sit down for a rare joint interview, and the whole thing is a goddamn delight. I mean, the video alone makes me giddy ("Oh jesus, this is going f*cking south. Next question!").
-Oh Drake. I love you, child, but no.
-In her new Cosmo interview, Gwen Stefani says she's only told her parents the whole story about what went down with Gavin Rossdale because "nobody would believe it if I could really say what happened. I went through months and months of torture."
-We know Tyler Hoechlin is swole, so why does he look so skinny in his Superman costume? Is it too big for him ? Or is that just a side effect of posing next to an Amell?
-I'm so, so glad the creators of Poldark aren't going to follow the novel's rape storyline. I devoured S1 of this swoony corsets 'n horses BBC drama in one weekend, but I was dreading the second season because of what happens in the books. Outlander should take note.
–Jared Leto: destroyer of your meme dreams.
-Despite the poor reviews (it's now officially as poorly-reviewed as Batman v Superman), Suicide Squad is still skyrocketing towards record setting $140M opening. And Ghostbusters couldn't even scrape together a third of that? Sigh.
-Meanwhile, this is my favourite line from any review I've read so far: "There is also a movie where Kevin Spacey plays a talking cat opening this weekend, and, sight unseen, that might be a better bet."
-Seriously tho, what's up with all the movie suckage this summer?
–Jeffrey Dean Morgan says he was as frustrated by The Good Wife's dumb finale as the rest of us.
-The internet spent way too much time today examining a shadow and trying to determine if it's Orlando Bloom's junk.  It was weird.
–Mariah Carey arrived at her TCAs presentation by being carried onstage by shirtless hunks. I'd expect nothing less.
-All the reviews for Baz Luhrmann's new Netflix show Get Down seem to indicate that the first episode is a mess, but it grows on you.
-Years ago, Nicole and I saw a terrible foreign movie at TIFF where characters randomly sang at the moon and side-walked into scenes. We STILL talk about the side-walk cause it was so weird. I can only assume that Taylor Swift has also seen that movie.
–Britney Spears assembled a team of dancers and marched over to Jimmy Kimmel's house in the middle of night to wake him up. He takes it way better than I would.
-The kid from Modern Family hooks up with the kid from The Good Wife in the trailer for XOXO.