–Channing Tatum and Beyonce's lip sync of "Run The World (Girls)" was great, but we all agree that Jenna Dewan-Tatum was the clear winner with "Pony," right?
-Here's what you have to eat if you want to look like Tom Brady and Gisele — and if you want your existence to turn into a bleak, miserable march towards death.
–JLo's new show (which every review I've read seems to sum up as competent, but non-essential) brought in the ratings last night, despite its terrible timing. It'll be interesting to see how it does once all the other shows are back.
–Kate Hudson and Nick Jonas: still a thing.
-I never, ever want Cate Blachett to see my bathroom. 'Cause the one she's criticizing is lovely.
-A Daredevil season 2 trailer has been released, along with the premiere date: March 18, 2016. I'm still out.
-I've already pledged my undying love, allegiance and first born to all shows on the CW (well, except for Reign. Even I have limits), but Legends of Tomorrow needs to cool it with the marketing. Do we really need new promos every single day? That being said, I've got nothing but love for the news that Firefly's Jewel Staite has joined the cast.
–Colton Haynes' Funny or Die video on the male model wage gap is wonderful.
–Scott Speedman is coming back to TV? YASSS!!!
–Gillian Anderson says she was offered less than David Duchovny for the X-Files reunion. "There's no point in dealing with my side [first] because, as usual, they come to me with half of what they want to offer David."
–Kaley Cuoco and Johnny Galecki were all PDAy at that PCAs, but she insists they're just friends. ('Cause she's dating Paul Blackthorne?)
–Christina Hendricks needs to have a serious talk with her agent.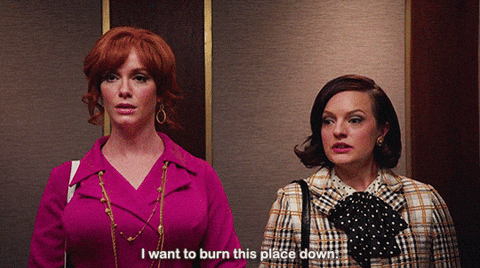 -You can download a bunch of scripts for movies that are up for awards this season. This is such a great tool for aspiring screenwriters (or anyone interested in movies).
-Cisco from The Flash sings? Huh.
-By the end of her Oscar campaign, we're all going to know how to pronounce Saoirse Ronan's name.
–Justin Bieber was 'asked to leave' the Tulum ruins. The last time I was there, it was crawling with drunk tourists. I can't imagine how disruptive you'd have to be to get booted.
-This is a great look back at Golden Globes' fascination with young actresses ahead of Sunday's show.
-NBC is making an Office-type sitcom — except it will focus on DC superheros. This means DC/WB will have shows on every single major network that isn't owned by Disney.
-So they're rebooting Tales From The Crypt but it will not feature the Crypt Keeper? And it's being created by M Night Shyamalan? Cool story, bro.
-Netflix is famously reticent when it comes to sharing ratings, but its CEO just claimed that its most popular movie is Adam Sandler's The Ridiculous Six, which he says has been seen more times in 30 days than any other movie in Netflix history. We're talking a about a movie that actually includes a scene where Taylor Lautner gets blown by a donkey.
–Tom Hiddleston is dancing and dangerous in the new trailer for High Rise.